PAYMENT




We accept Visa and Master Card (thru PayPal), Cashiers Checks, Money Orders, or Personal Checks.
(We are still researching the best way to use PAYPAL and Credit Cards directly with our store catalog. PAYPAL is fully functional but you may recieve an email to varify exact orders so please be patient while we finish this process.)
When your payment has arrived, we will email notification at the address on file to let you know it has been received.

Upon receipt of Money Orders or Cashiers Check , your items will be assembled, packaged, and shipped within three (3) business days. Please make all checks and money orders payable to


The Backstage Store
12005 SE Raymond St.
Portland Oregon 97266



Personal checks will be deposited and your order will be shipped after seven (7) working days or after funds have cleared. To help ensure accuracy, include a brief description of the item(s) you're purchasing with payment.
An additional fee of $35.00 will be charged to and paid by purchaser on all returned checks. In this case, all merchandise will not be shipped until payment is resolved. We offer top quality items



REFUND/RETURN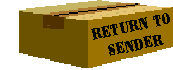 Item(s) purchased from the Backstage Store may be returned within 30 days for a full refund. (Only the purchase price but not shipping or handling charges) Customers are responsible for any return shipping costs.
Upon return, item(s) will be thoroughly inspected. To assist in the return process, please be sure to include all personal information. (Name, address, approx... date of purchase, receipt) A refund will not be honored for any item(s) that has been damaged or blemished during shipping or is deemed unfit for resale.
We offer top quality items and intend to satisfy every customer that purchases products from the store. We value your business and will do our best to make sure your happy.

Please contact us if you have any concerns.